Progetto Design & Build designed the Milan headquarters of world-renowned video game developer Ubisoft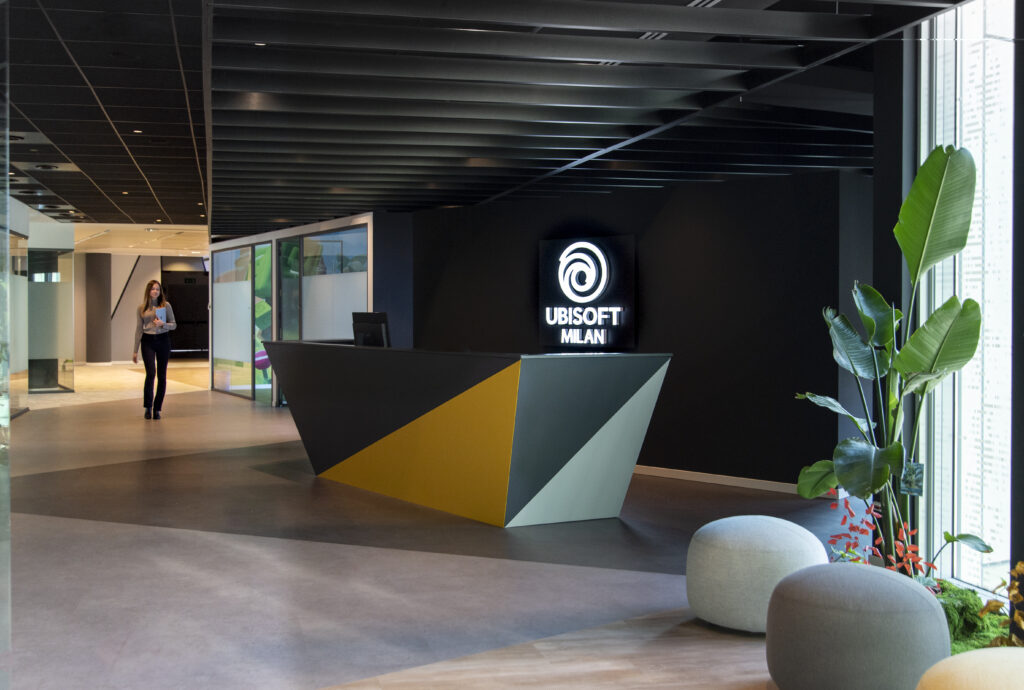 Ubisoft is the French multinational developer and publisher of world-renowned video games such as Assassin's Creed, Just Dance, Rayman, Far Cry, and Watch Dogs. For the construction of its Italian headquarters, the company chose Progetto Design & Build, a CMR Project Group company.
Immersive and stimulating spaces that foster creativity
The company asked Progetto Design & Build to develop a place capable of constantly stimulating the inspiration and creativity of its employees, who are immersed in the digital dimension on a daily basis. Added to this goal was the challenge of working on an unusual floor plan, characterized by broken lines, sharp angles and diagonal walls.
Project Design & Build went along with the request in the best possible way, designing immersive spaces with a strong visual impact. These environments are very playful, perfectly in line with the company's digital creativity.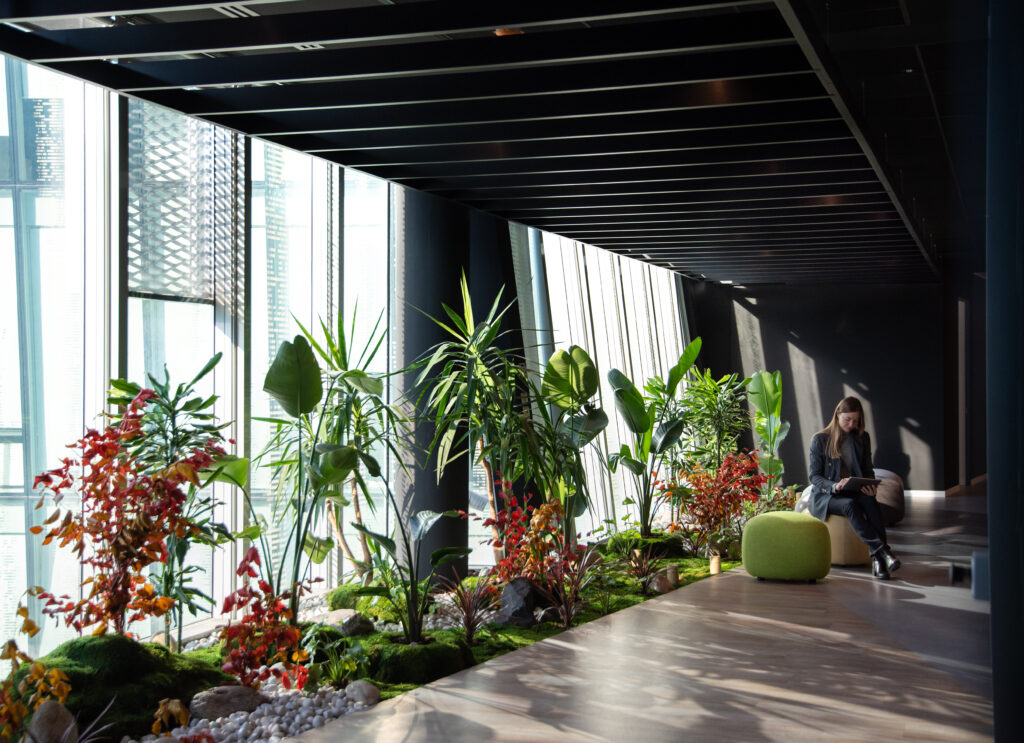 The layout of Ubisoft's new Milan office follows the oblique lines of the building, fully exploiting its potential. Moreover, it was created to surprise thanks to numerous design tricks. The floor design, for example, breaks in several directions; as do the walls, which, by featuring "breaking" elements at every corner, generate ever-new points of reference.
Ubisoft Milan: the project
At the entrance, the colorful and imposing reception desk recalling a spaceship stands out. Next, a large window runs along the entire corridor overlooking a garden full of trees.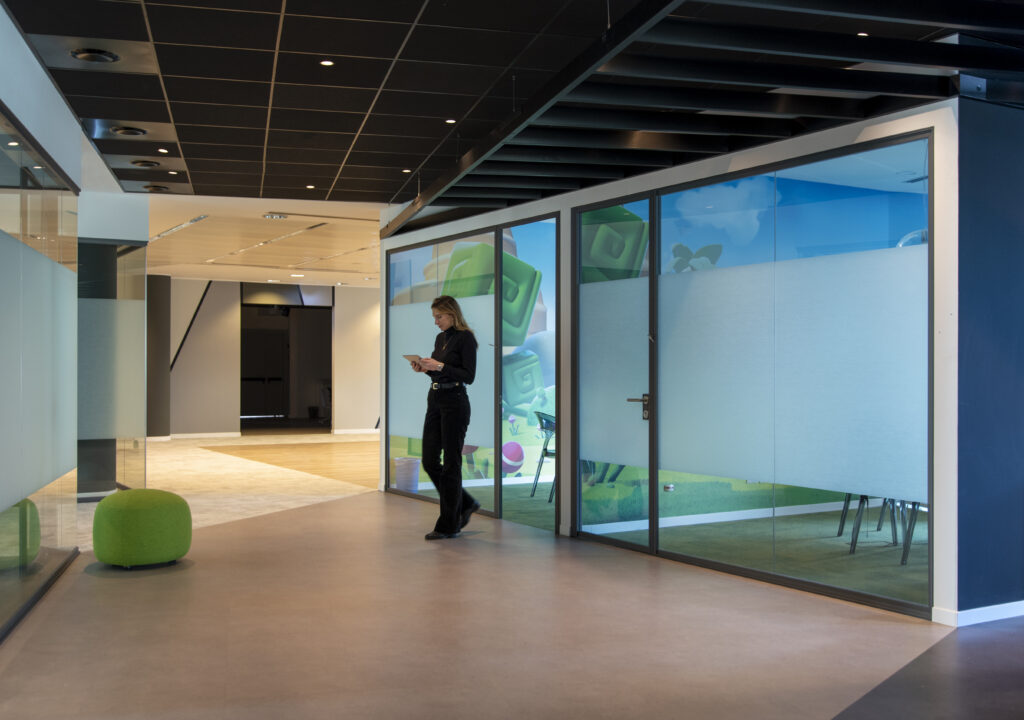 Segmented geometric patterns and broken lines repeated along the corridors create an optical effect that dematerializes the architectural structure and dialogues with the natural light entering through the slanted windows.
The meeting rooms are themed: each of them, with their lighting, finishes and furnishings, is, in fact, inspired by the environments and characters from Ubisoft's most popular games.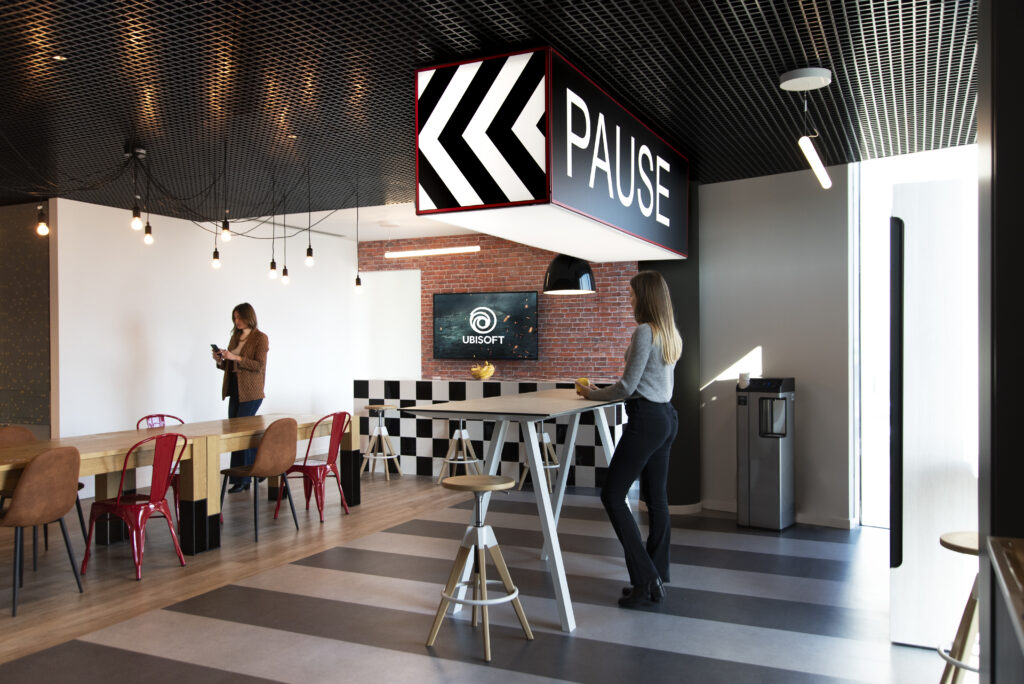 Operational spaces are large and favor collaboration. Lastly, the variety of environments and details continues in the break area: an informal space, also punctuated by colorful and diverse furniture elements, such as the floor decor, the checkered counter, and industrial design pieces juxtaposed with vintage furniture. A mix of elements designed to recreate different places within a single space.
Photo: Vittoria Dorizza