Architecture and interior design firm Area-17 renovated Ariostea headquarters by merging exhibition and hospitality into a new hybrid concept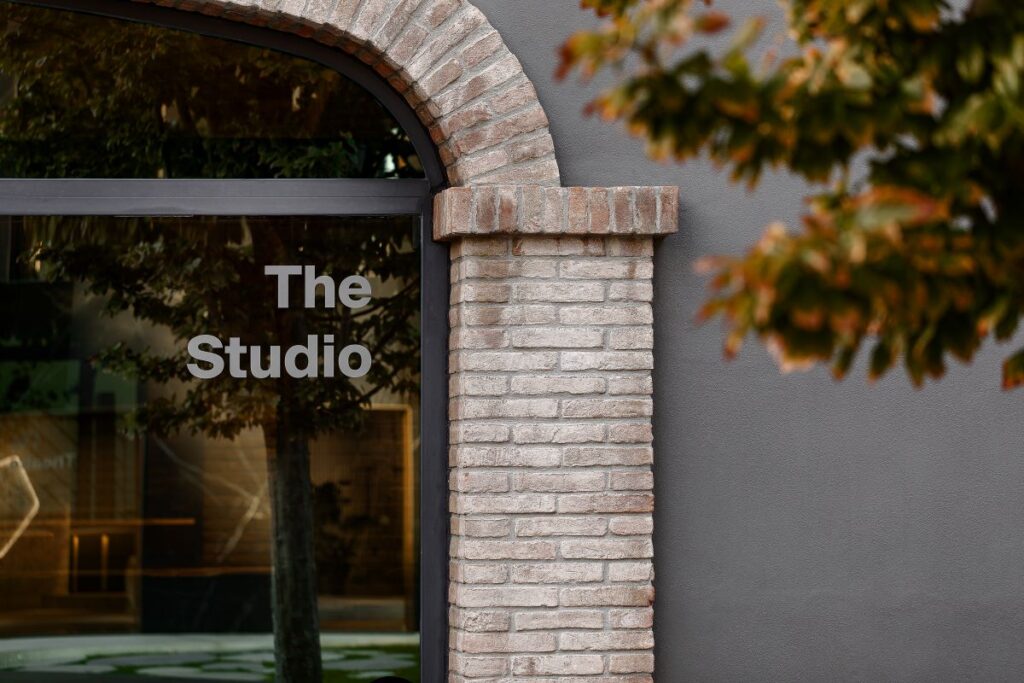 Ariostea, an Iris Ceramica Group Brand, renovated its headquarters in Castellarano (Reggio Emilia), entrusting the project to architecture and interior design firm Area-17. The new concept involved redefining all spaces by establishing a synergy between working, display, meeting and reception areas.
Ariostea showroom has a new look
The showroom is divided into The Theatre, a multifunctional body designed to host performances and installations, and The Studio, a building that blends hospitality and exhibition in a new hybrid concept. The latter, with its simple and compact volumes, arches and brick vaults, is reminiscent of typical Emilian architecture. Developed on about 450 square meters divided into three floors, the interior surprises with its layout, which reproduces a large contemporary house with a warm and familiar atmosphere. The concept, therefore, deliberately leaves the classic showroom setting to embrace a dimension in which display needs merge with the advantages of a hospitality place.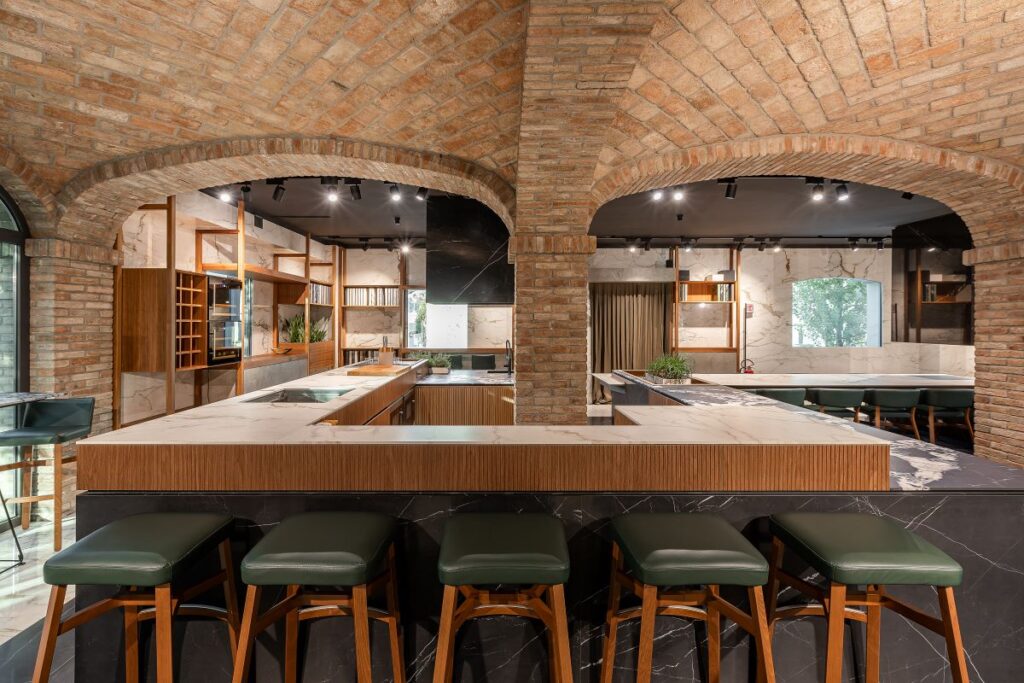 A new exhibition experience for the brand's high-tech surfaces
The surfaces covering the exhibition spaces of the new headquarters allow people to delve into Ariostea's philosophy and know-how in an informal and comfortable setting.
The Studio, in fact, houses a large kitchen dominated by an imposing counter that, when needed, can become both a bar corner and a cooking demonstration area. Ariostea's Ultra Marmi floor and wall tiles play on color contrasts that dialogue with the Calacatta Macchia Vecchia and Grand Antique surfaces by SapienStone – another Iris Ceramica Group Brand –, both with Cashmere finish and 12- and 20-mm thickness, applied on the kitchen and table top.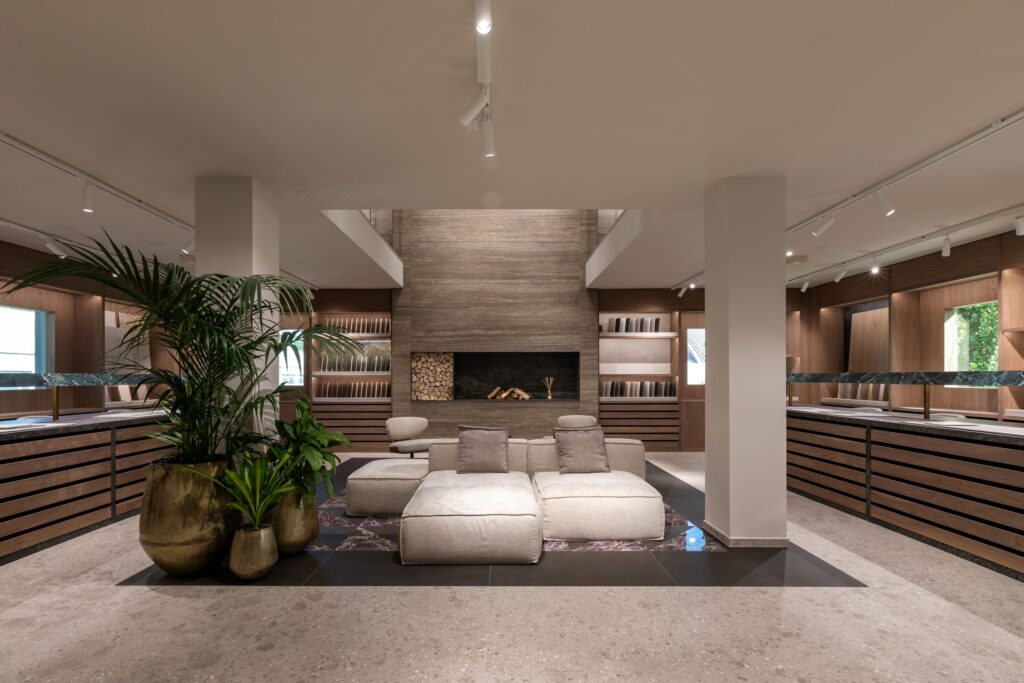 The upper floor hosts a large open-plan space in which storage modules on the walls contain samples of the Brand's latest creations, in both traditional and Ultra formats. A complete collection of textures, finishes and color variants from which architects, designers and dealers can draw inspiration and ideas to create mood boards and unique and unexpected combinations.
The space hosts a spacious living room with a majestic fireplace clad with Ultra Marmi Travertino Titanio that connects this level to the upper. Fragmenta Full Body Botticino Dorato is on the floor, while the central part, corresponding to the relaxation area, features a beautiful ceramic carpet made with Rosso Imperiale and Balance Umber.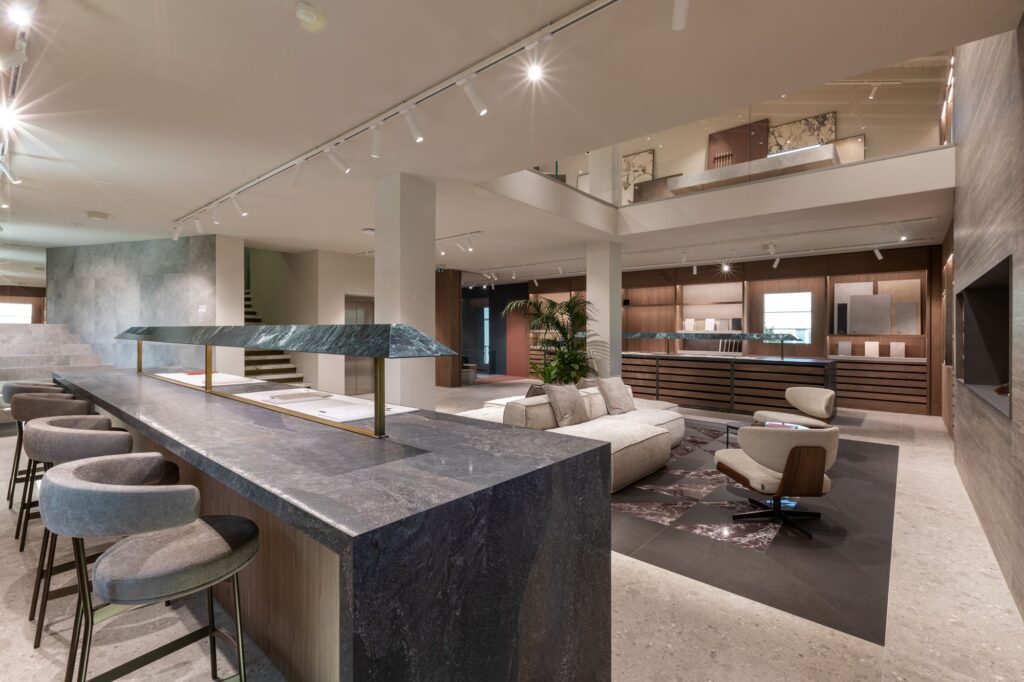 Lastly, the top floor offers a playful and cozy space where one can get to know better Ariostea materials in an informal way. On display is a billiard table with structure covered in Ultra Pietre Galaxy Grey, while the floor is covered in Fragmenta Full Body Botticino Dorato, with a geometric patterned composition made with Balance Mustard and Calacatta Viola. The space is complemented with two work corners with thematic material libraries dedicated to the innovative Active Surfaces® ceramics and SapienStone solutions.