Scavolini and designer Vittore Niolu have teamed up to create the new Formalia collection, a complete home interior design project
Freedom to design the kitchen and the living area
Formalia is a collection with simple and plain lines, designed by Vittore Niolu for Scavolini, whose strengths are forms and materials. Its distinctive feature is the shaped door with built-in metal handle, which creates a geometric and contemporary interplay of lines. The Formalia collection is a fundamental element for the home interior design project, also thanks to the modular Status Wall System. The Status Wall System is an open-fronted structure that enriches the kitchen with several functions. Moreover, it can serve as a partition between the various spaces of the living area.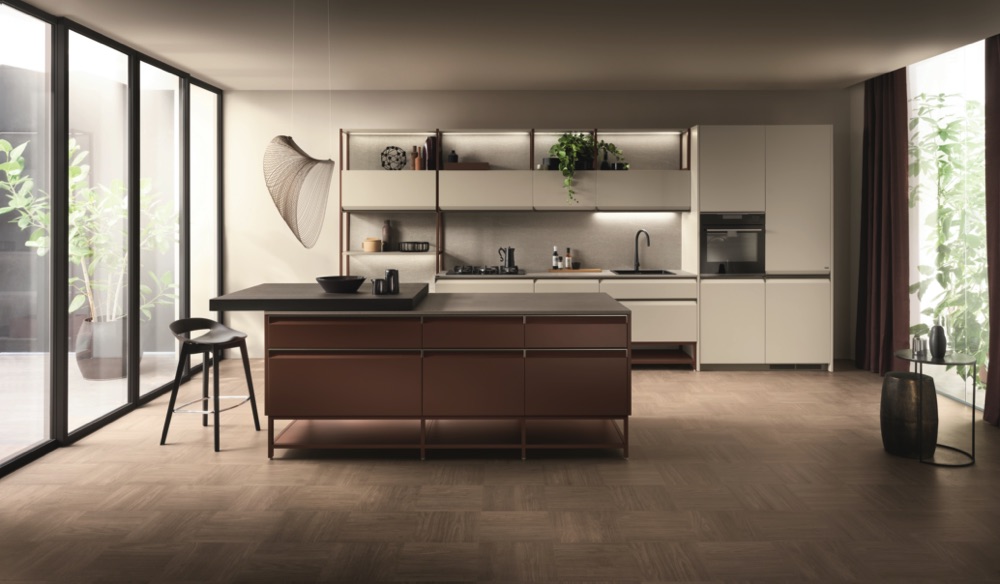 Thanks to its many compositional possibilities, Formalia reinterprets the home system with furniture integrated by function. In this way, each element – bookcases, made-to-measure storage units, modular elements and desks – finds the ideal place, for customized environments with perfectly organized spaces.
Discover the MIA kitchen with Carlo Cracco
An important novelty in the Formalia collection is the titanium finish, which establishes elegant color connections between wall units, handles, plinths and the structure of the Status Wall System. These elements are also available in the refined black and rust shades. With the doors in the lacquered version, decorative panels or recycled PET, it is possible to obtain endless combinations, for highly customized environments.
The coordinated bathroom for a total look
Formalia is the perfect collection for those who love to have a home with coordinated environments. After the kitchen and living area, Vittore Niolu has designed the bathroom collection as well. The Formalia bathroom furniture for Scavolini has the same minimalist and refined design that characterizes the living room and kitchen, with the shaped door and built-in metal handle.
The modular structure of the Status Wall System defines the geometry of the bathroom, either as a base, as an end element, or as a partition for the various functions of the entire bathroom area. The organization of spaces is enhanced by the open-fronted structure that allows you to have everything in sight and in perfect order. Pull-out trays and object holders that can be freely positioned complete the versatility of the space. The knurled foot lends lightness to the various compositions.
Discover the Juno and Tratto bathroom collections by Scavolini
Other pictures of Scavolini's Formalia collection